Présence
17th October - 14th December 2019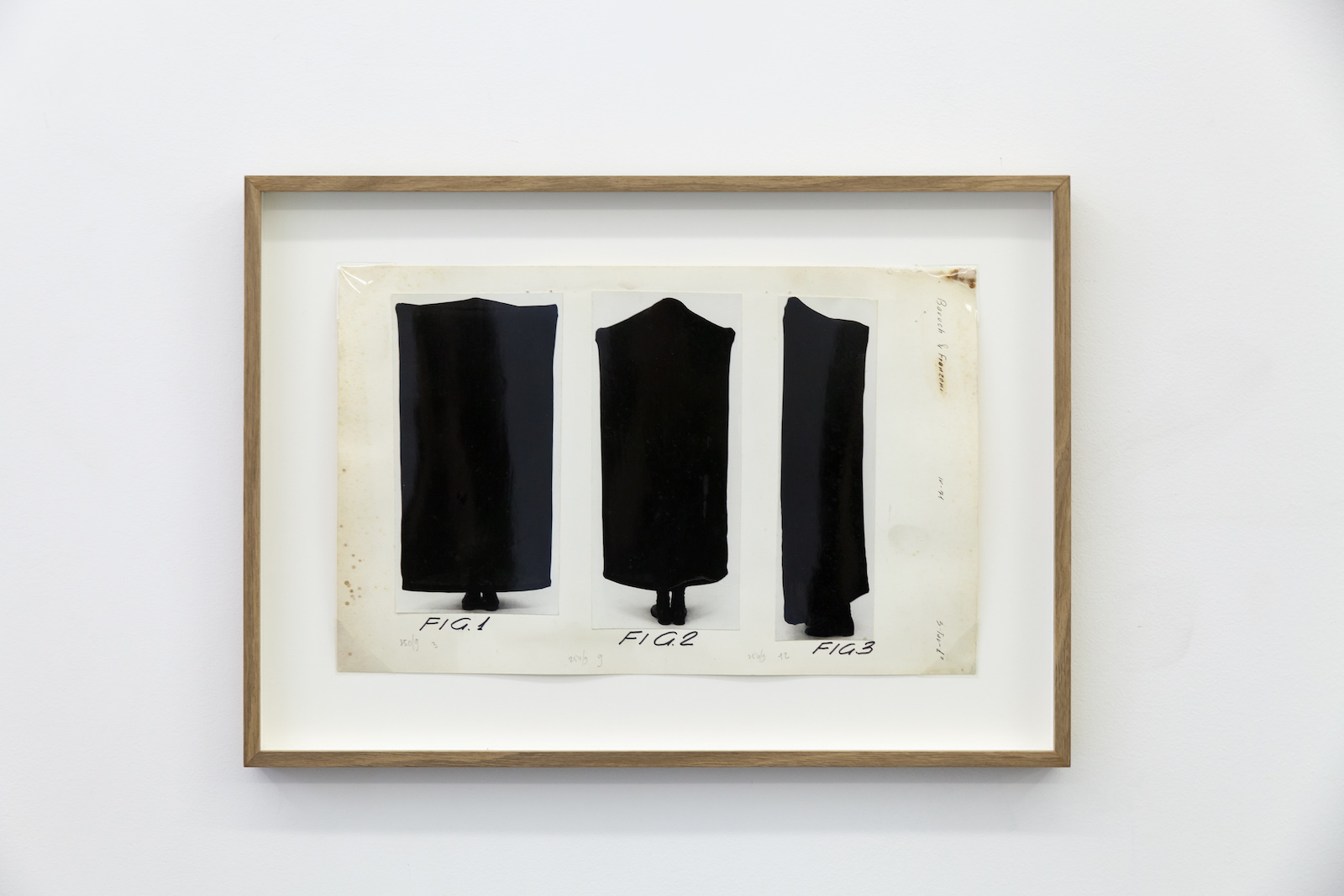 Marion Baruch
Abito - Contenitore
, 1970
9 photographs, original silver print, cut and taped on 3 cardboard pages
Image: 21 x 33 cm each
Enquiries about work INV Nbr. MB1970001
Abito-Contenitore, réalisé en 1970, fait partie des travaux de début de carrière de Marion Baruch. Cette série de neuf photographies argentiques disposées sur trois cartons souligne l'étroite relation entre le tissu et le corps féminin. Elle s'intéresse ici au rapport du corps à la société, dans un contexte marqué de libération de la femme. L'artiste porte son regard sur la manière dont le textile se construit en boite de dialogue avec l'extérieur, introduisant une conception artistique aux formes féminines.
Le corps dissimulé sous l'étoffe oscille entre sculpture et performance, mettant en lumière le mouvement féminin au contact du tissu, et son importance au sein d'une société marquée par l'objectivation et l'instrumentalisation du corps des femmes. Ainsi, Marion Baruch dans cette oeuvre décrit une époque, en s'inscrivant dans la lignée de l'art féministe des années 1970.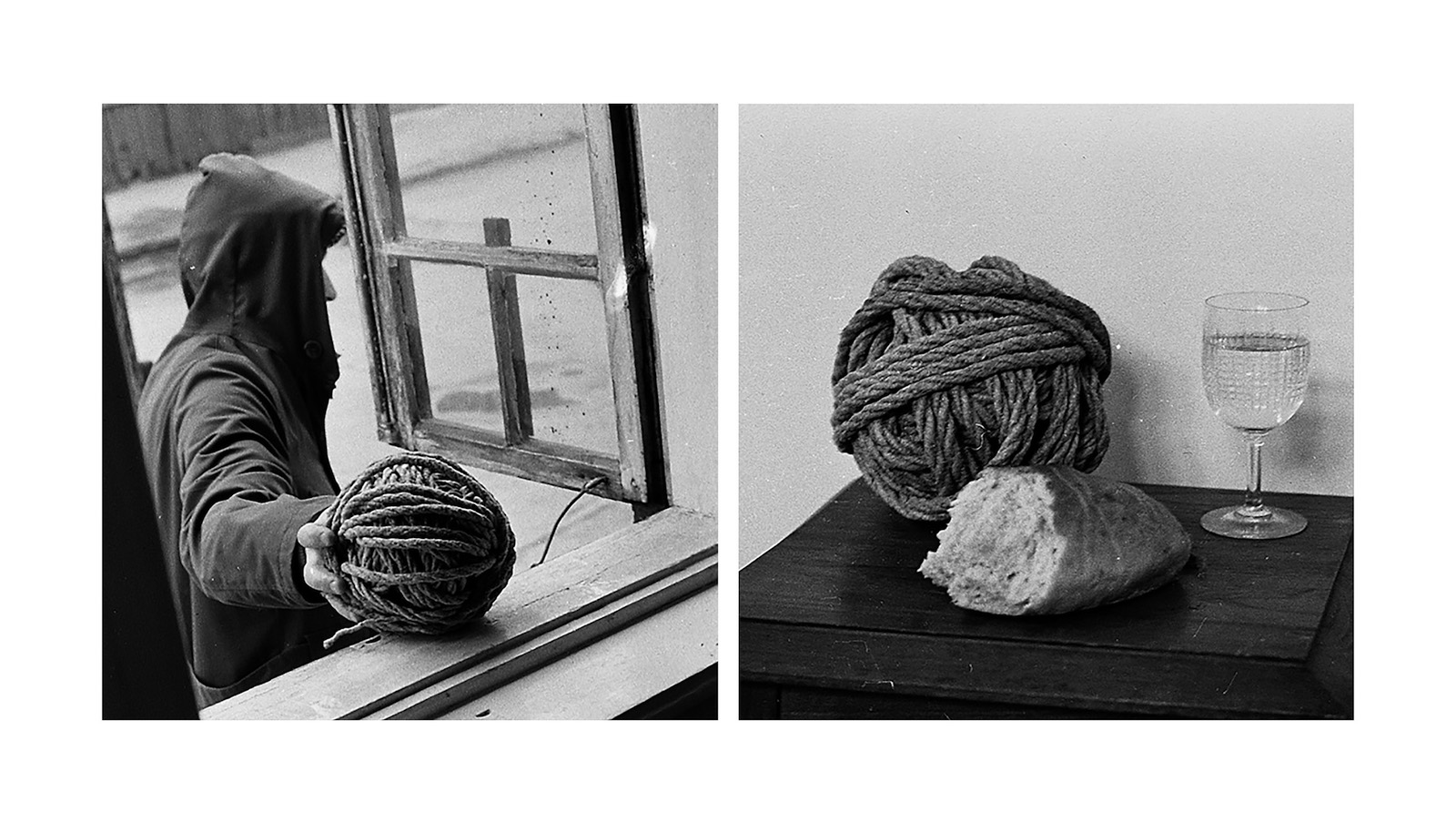 Decebal Scriba
Gelatin silver prints - Diptych
Image: 30 x 30 cm (each)
Enquiries about work INV Nbr. DS1977001
The clew is a recurrent pattern in Decebal Scriba's work. It takes on a strong symbolic and philosophical dimension, the rope referring to the idea of an initiatory journey, or even the course of existence. Composed of entanglements of yarn sometimes ordered, sometimes chaotic, it introduces a reflection on existential dilemmas.
This symbol is also used in drawings during state exhibitions and, under the guise of sobriety and innocence, allows the artist to escape the risk of censorship.
Exhibitions:
- Passages, Galerie Anne-Sarah Bénichou, Paris, France, 2019
- Memory Clouds, curated by Ami Barak, Galerie Anca Poterasu, Bucharest, Romania, 2018
- Decebal Scriba & Serge Spitzer, 40 years after, Contemporary Art biennial Art Encounters, curated by Ami Barak, Timisoara, Romania, 2017
Bibliography:
- Decebal Scriba, 70s - 80s Works, under the supervision of Olivia Nitis, Verlag Kettler éditions, 2017, p.76 and p.101

Decebal Scriba
Untitled (Void study)
, 1973
black and white gelatin silver prints
Image: 30 x 90 cm
Frame: 42 x 103,4 x 3,5 cm
Enquiries about work INV Nbr. DS1973009
Untitled (Void study) is the photographic capture of a rectangular breakthrough in grass. The image, which become obsessional for the artist, found its meaning when it was turned to a negative. It then evolves into a questioning around the notion of emptiness and fullness, existance and nonexistent, life and death. Through the investment of the philosophical field, the artist invites us to interrogate our definitions in order to highlight their complexity.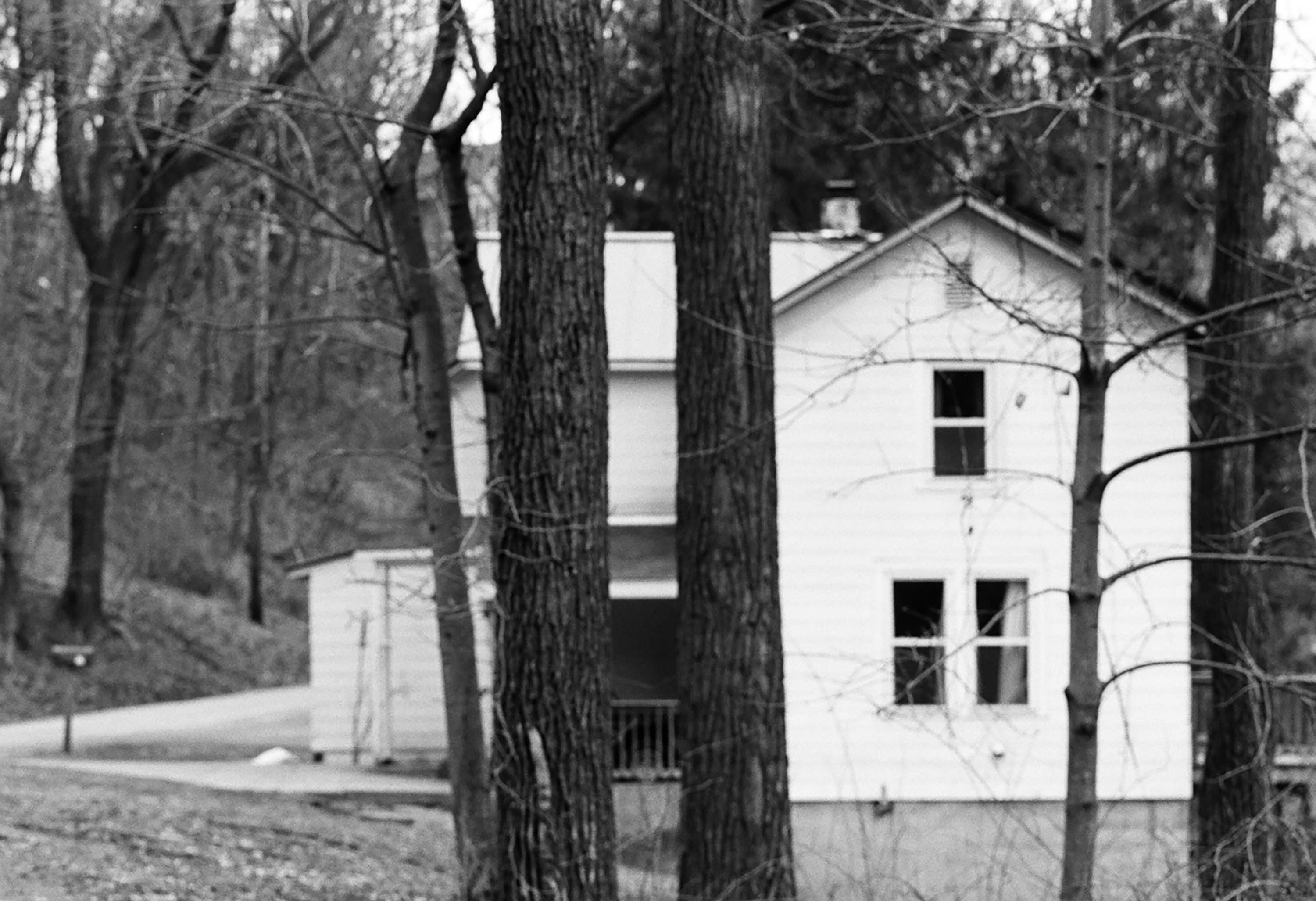 Seton Smith
Two Trees Before House
, 2012
Leeds series
Digital print on archival paper
Image: 36 x 53,9 inches
Paper: 36 x 53,9 inches
Enquiries about work INV Nbr. SS2012001
Since 2012, Seton Smith has begun taking photographs of houses in different areas within the United States. Using black and white, and increasing focus sharpness, she slightly modifies her photography technique to produce works in the continuity of her endeavour to decode elements of power in architecture.
According to her, houses and more generally architecture shape individuals. Conversely, buildings, private housing or public institutions embody fragments of life's marks and memories of human existence. 
In these large series of photographs, conceptualised as a road-trip across the American territory, it is all the individual and global history of the country which is elucidated and which can be felt in relation to these solitary houses.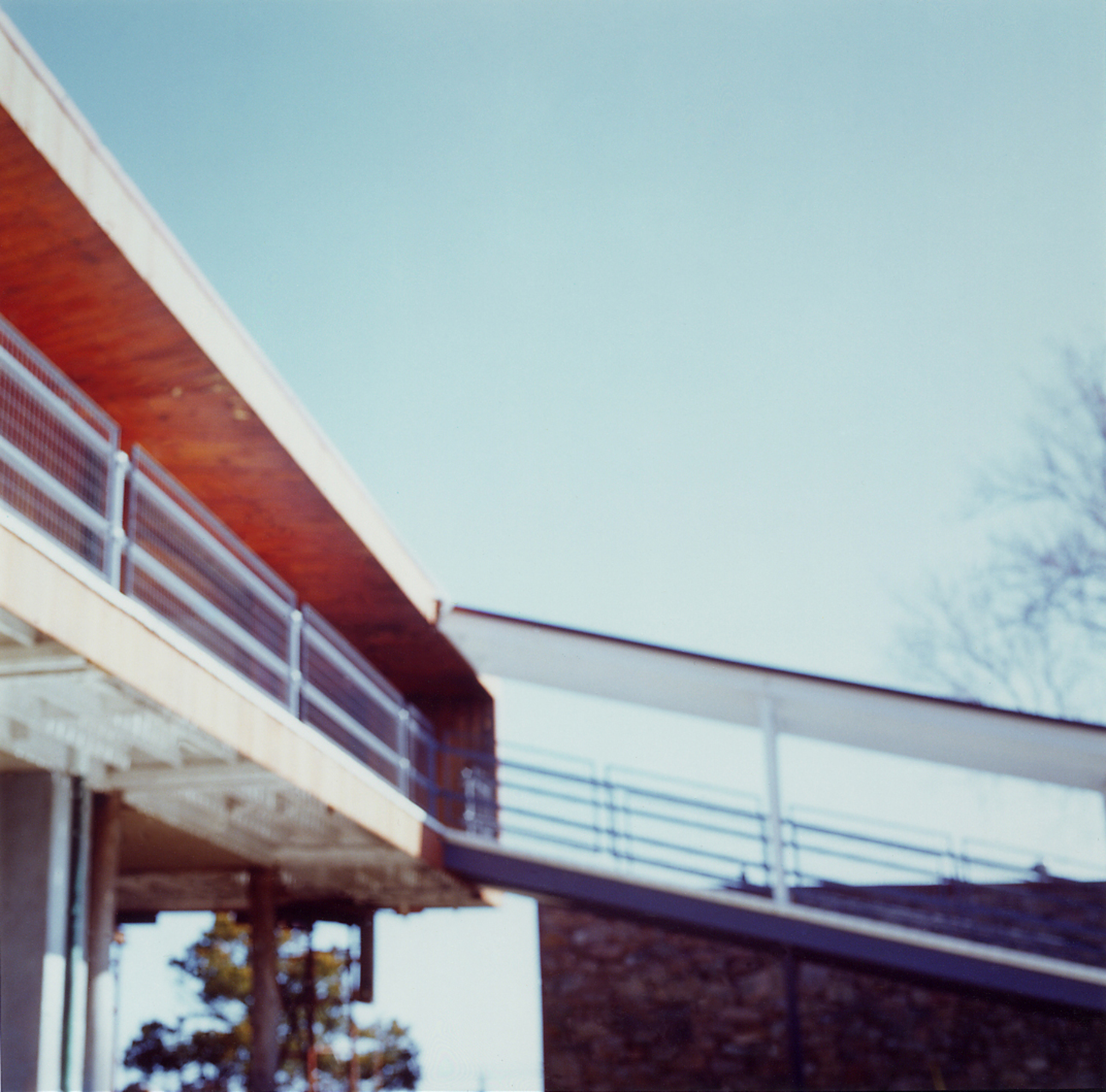 Seton Smith
Sliding Rocks in House
, 2003
Guest House
Chromogenic print
Image: 48 x 48 inches
Enquiries about work INV Nbr. SS2003001
Drawn and made by Tony Smith in 1951, this Guest House is a private property located in Guilford, Connecticut. Invited coincidentally in this house, Seton Smith was marked by this encounter with her father's architectural minimalism. Hence, she made a series of four photographs named Guest House. Composed of bedrooms at each end, a bathroom and a central kitchen resting on pylons overhanging the Long Island Sound, this house represents the efficiency of modernism through its sober and humble design. Moreover, the view on the estuary fills with life the place, which appears as perched within space. Relying on this architectural minimalism, she occults it through the perspective, as a way to play with her familial architectural heritage.

Exhibitions:
- Kiki Smith, Seton Smith, Tony Smith, Kunstmuseum, Vaduz, Liechtenstein, 2013
- Kiki Smith, Seton Smith, Tony Smith, Les Abattoirs, Toulouse, France, 2013
- Kiki Smith, Seton Smith, Tony Smith, Bielefeld Kunsthalle, Germany, 2012
- Winston Wachter Gallery, Seattle, Etats-Unis, 2007
Bibliographie:
- FRANGNE Pierre Henry et LIMIDO Patricia, Les inventions photographiques du paysage, presses universitaires de Rennes, 2016, p. 28
- MESCHEDE Friedrich (HG.), Kiki Smith, Seton Smith, Tony Smith, Bielefeld Kunsthalle, Bielefeld : Kerber Christof Verlag, septembre 2012, p.49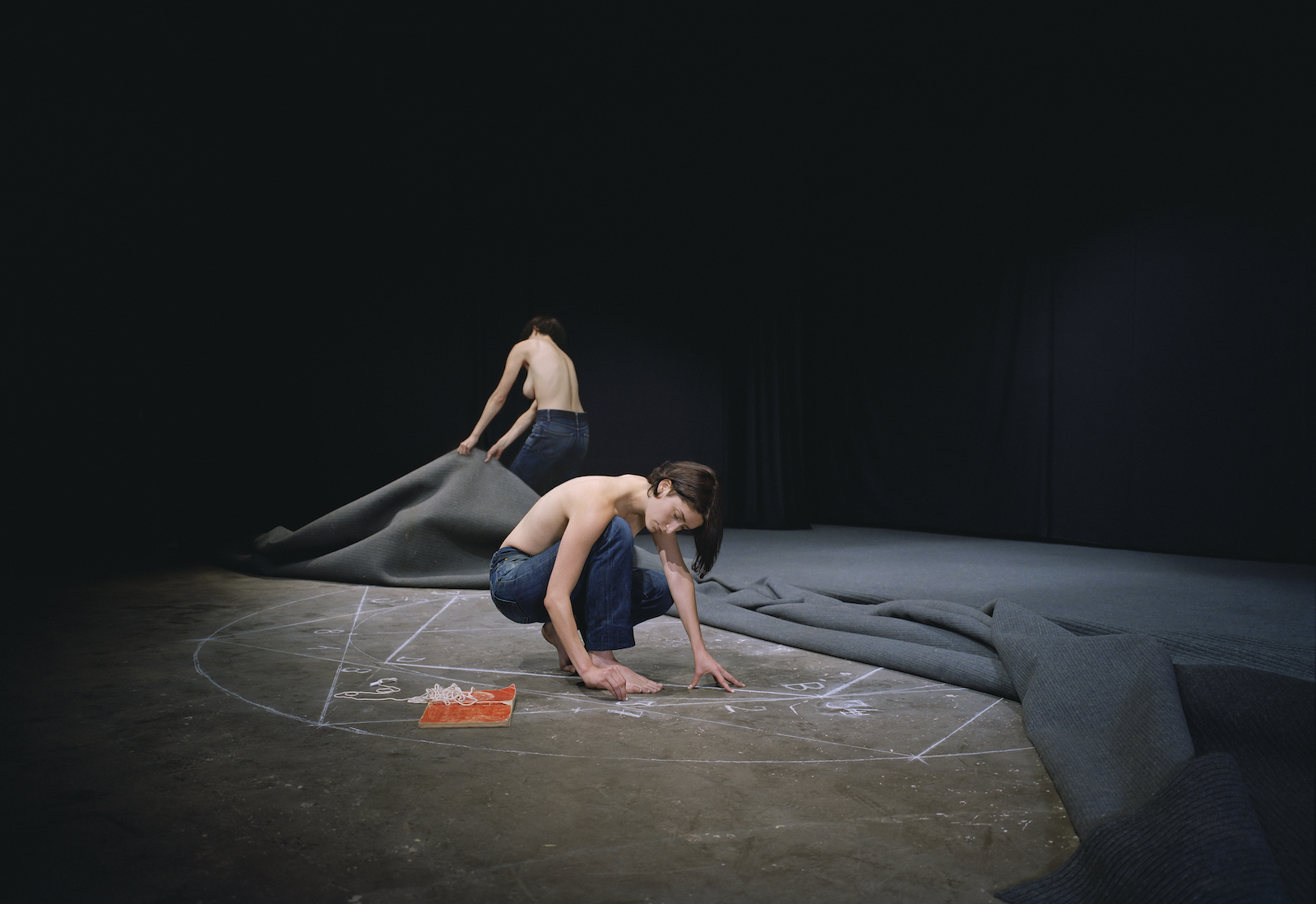 Laurent Montaron
Figure pentagonale #2
, 2016
Inkjet printing
Image: 110 x 160 cm
Enquiries about work INV Nbr. LM2016004
Figure pentagonale is the title of a set of six photographs, seemingly similar, but each with subtle differences. Each image features the same woman in two different positions, thus juxtaposing two temporalities: one draws a pentacle on the floor with chalk, while the other manipulates the carpet covering a theatre stage. Calling on the register of magic, the book in the photo assumes that it can influence the course of time by modifying fortune through chance, and in particular the probability of winning at games.
This series proposes a reflection on causality, and in particular on the existence of chance and fortune. Each small particularity of each photograph reflects different causalities, which suggests in a Pascalian conception that chance does not exist. Only the causality that originates in the future - fortune - is a key to explaining the present event.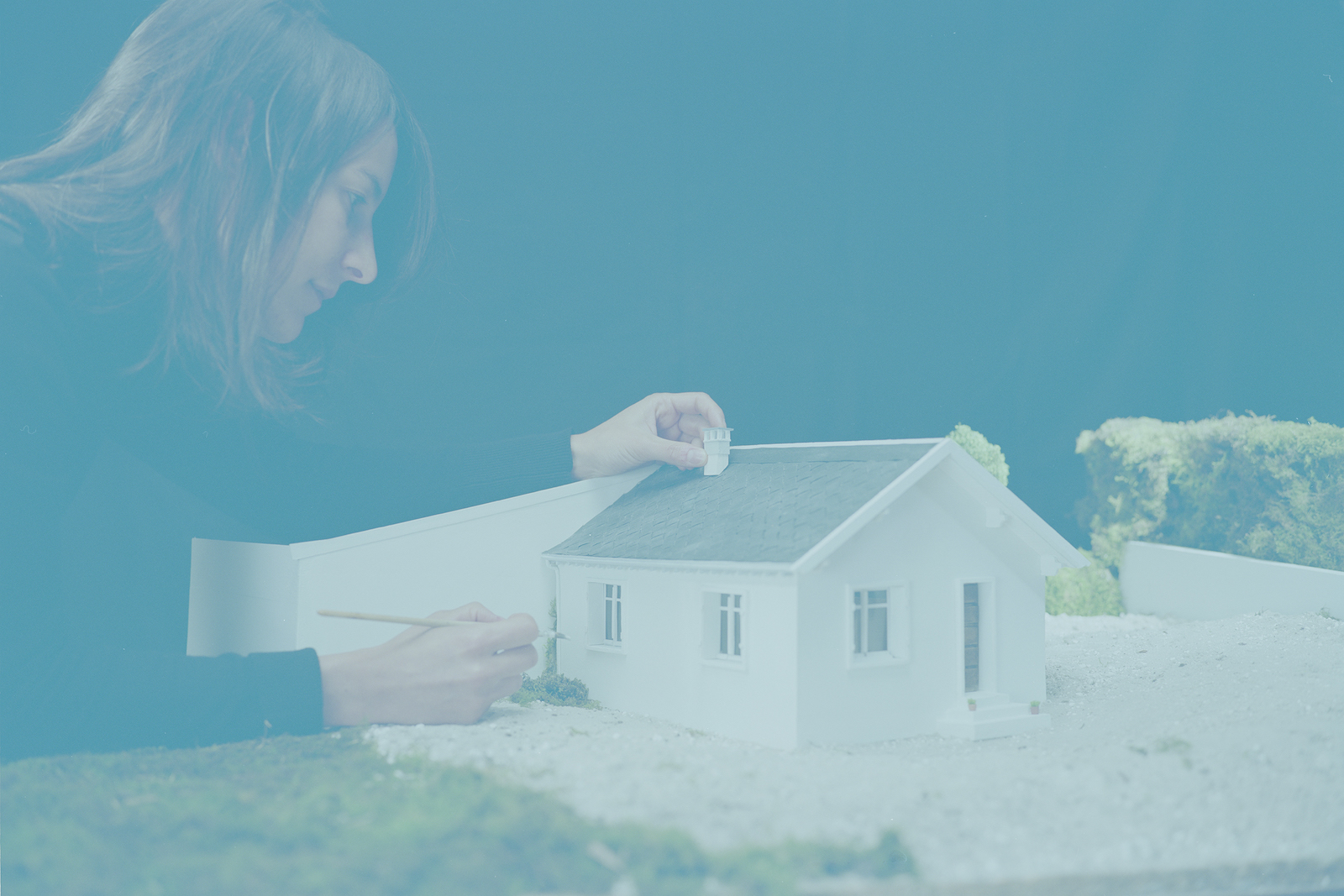 Laurent Montaron
Print on Blueback paper
Image: 55x 36 5/8 inches
Enquiries about work INV Nbr. LM2017003
Blue Beckett is a raw scan of a negative. The picture was taken during the building of a model of Samuel Beckett's house in Ussy-sur-Marne, in the countryside outside of Paris.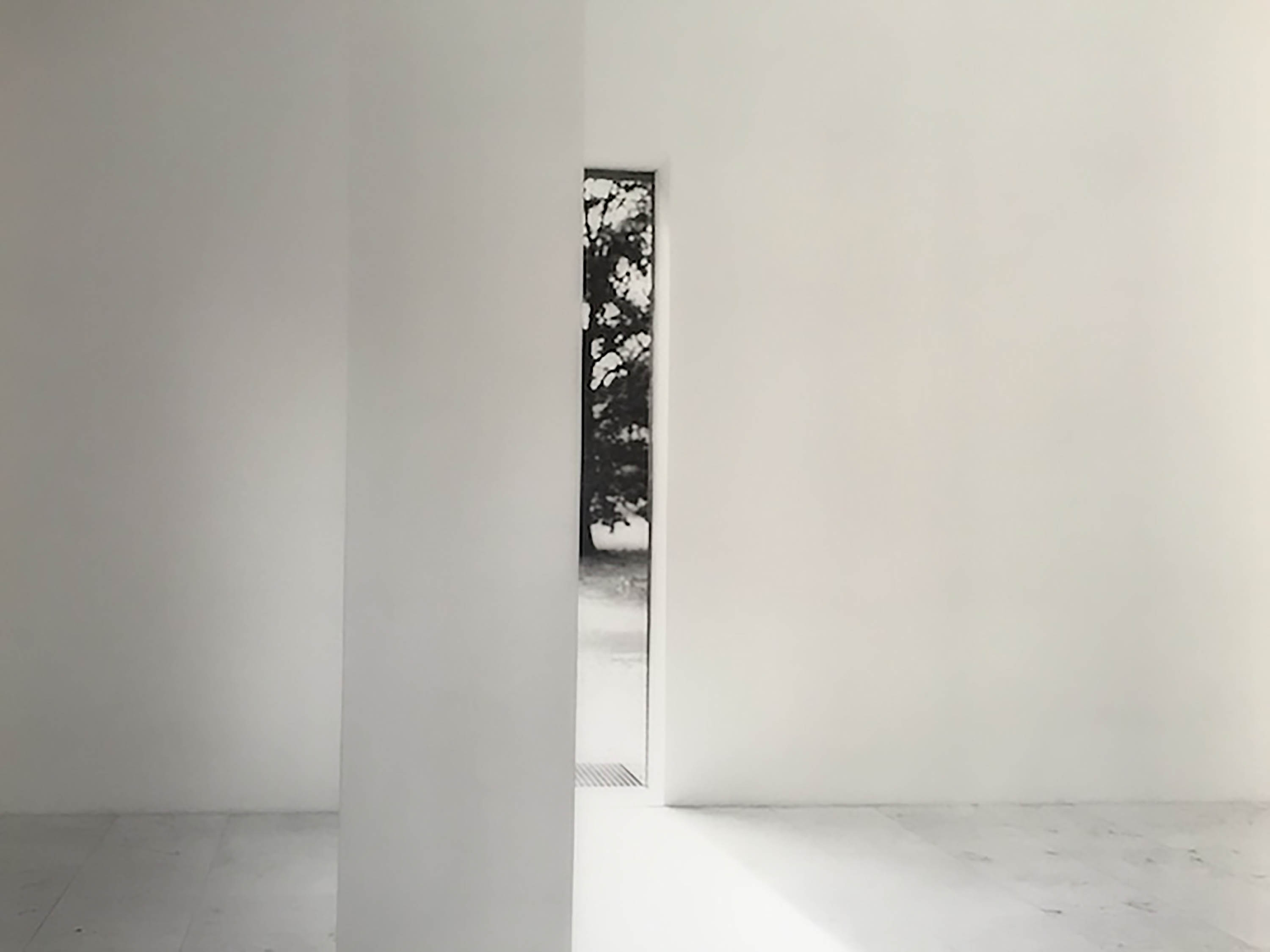 Seton Smith
Inkjet Print
Image: 38,2 x 47,2 inches
Paper: 38,2 x 47,2 inches
Enquiries about work INV Nbr. SS2013001
This photograph of a room in the Insel Hombroich Museum, located near Dusseldorf is in line with the architectural minimalism that characterizes Seton Smith's work.
Perspective drives the eye towards the outside, contrasting with the luminous and seemingly empty inside of the room.
Phantasmagorical testimony of an absence, this photograph invites the viewer to project themselves into the universe of memory of the works and to penetrate the image in order to sense their presence in counterpoint.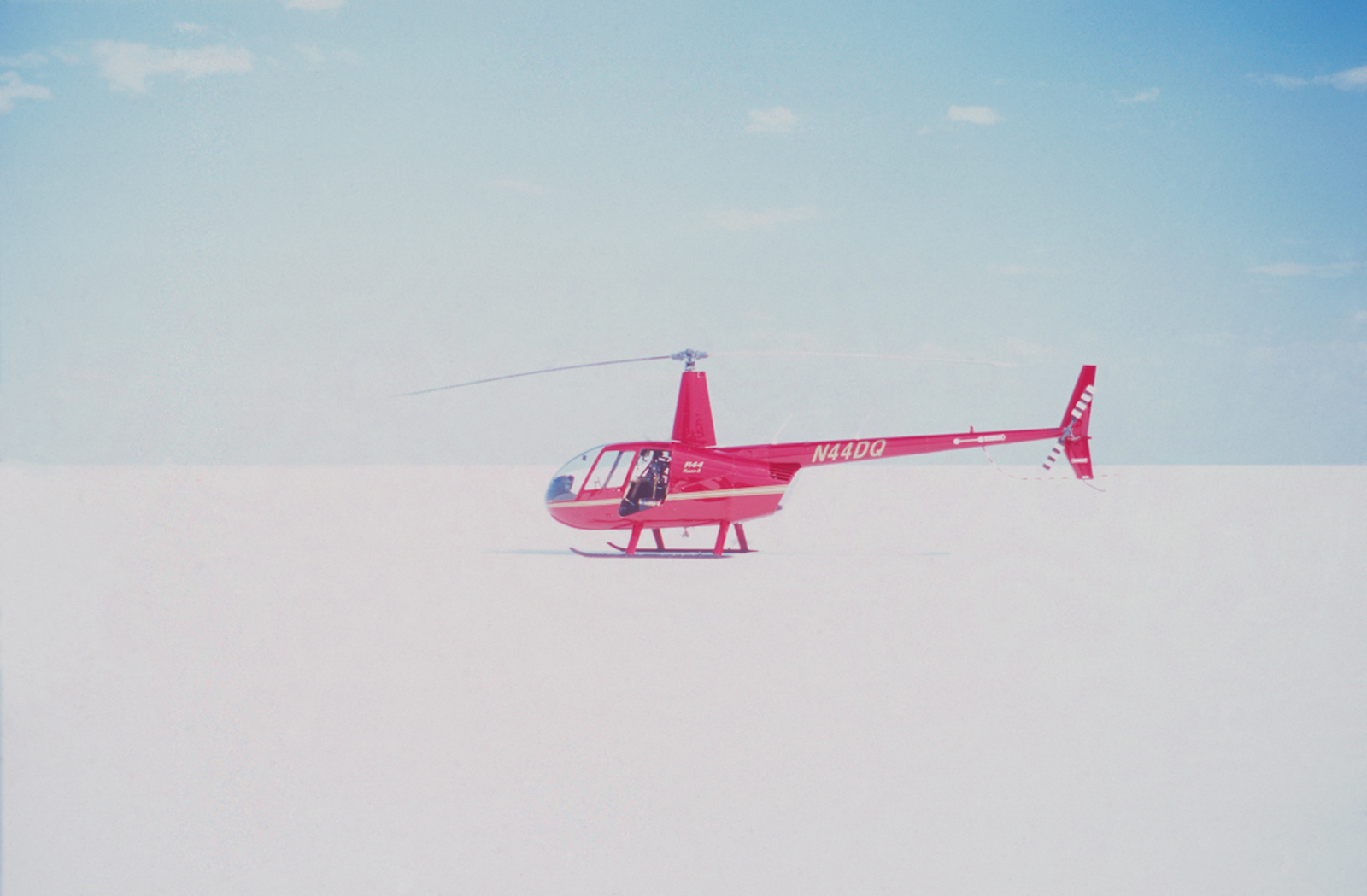 Julien Discrit
Vanishing Island #5
, 2010
Série Vanishing Island
Lambda print
Image: 3,5 x 4,7 in
Frame: 9,8 x 11 in
Enquiries about work INV Nbr. JD2010010
Vanishing Island is a pictures series captionned on the natural site of Bonneville Salt Flats during a stay of the artist in USA. This huge salt desert, former bed of a giant lake, is in the north-east of Utah. Its characteristic is that it is the largest flat surface in the world. Its singularity regularly leads it to constitute itself as a theater of records, in particular during Speed Week, a week of speed car races. It is also a source of inspiration for artists like Nancy Holt and her Sun Tunnels.
Julien Discrit, in a series of five photos, uses overexposure to accentuate the loss of landmarks provided by this white and uninterrupted expanse. During the same stay, he produced a video called Speed of eye.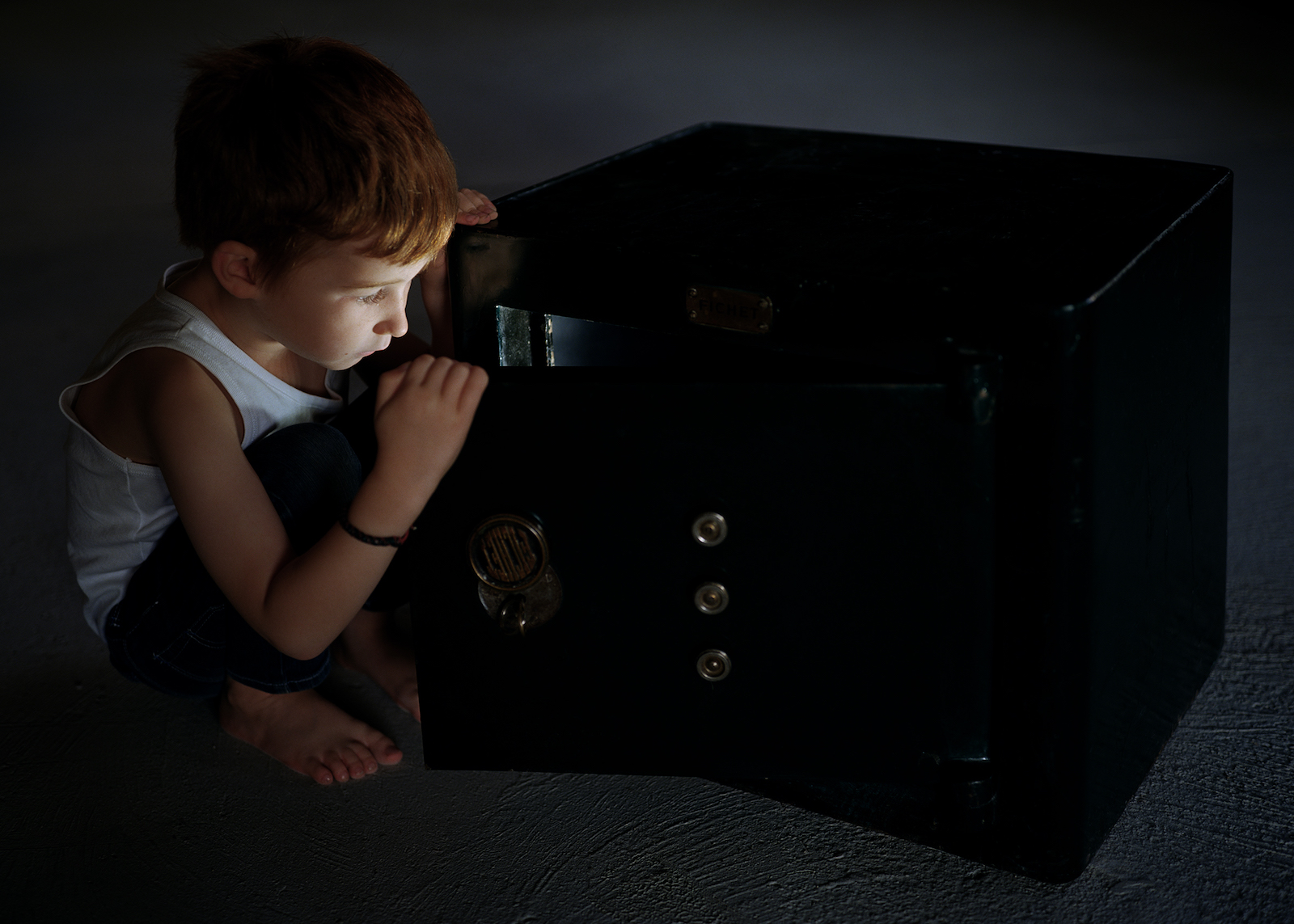 Laurent Montaron
Color Photograph
Image: 50 x 70 cm
Enquiries about work INV Nbr. LM2018013
Le monde forclos is a photograph in which appears the face of a child illuminated by a light coming out of a safe. The chiaroscuro lets us think that the light he discovers in the doorway is that of the day. The title invites us to consider the image as an inversion of the world, the term "forclos" meaning "locked outside".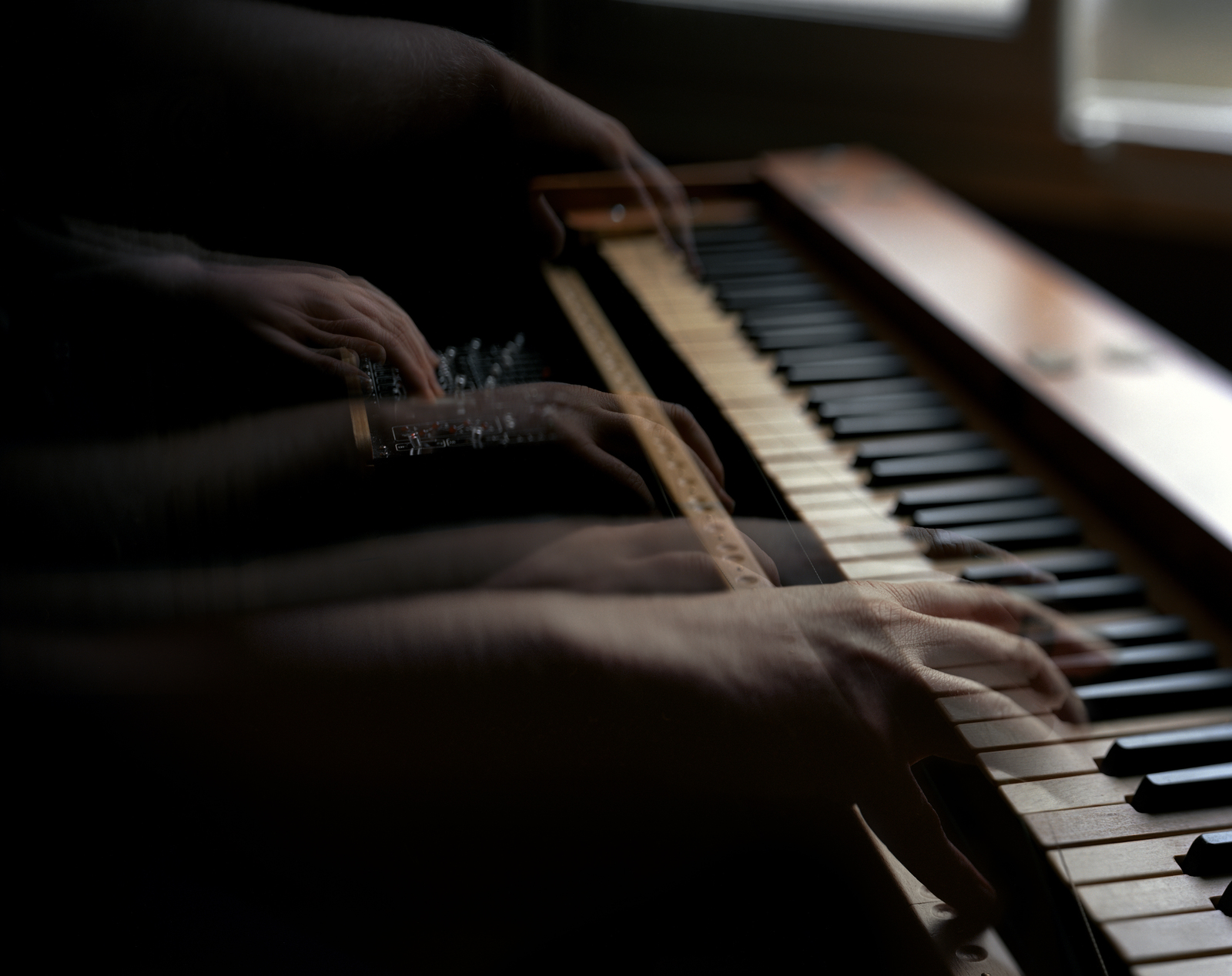 Laurent Montaron
Pigment print
Image: 95 x 120 cm
© Laurent Montaron
Enquiries about work INV Nbr. LM2016001
Ondes Martenot depicts the interpretation of a musical piece composed by Olivier Messiaen, "Fętes des belles eaux, II/14 : Oraison," written in 1937. The photograph was taken during the eight-minute-long performance by Claude-Samuel Lévine. The Ondes Martenot was the first electronic instrument to be introduced into an orchestra. It was invented in 1928.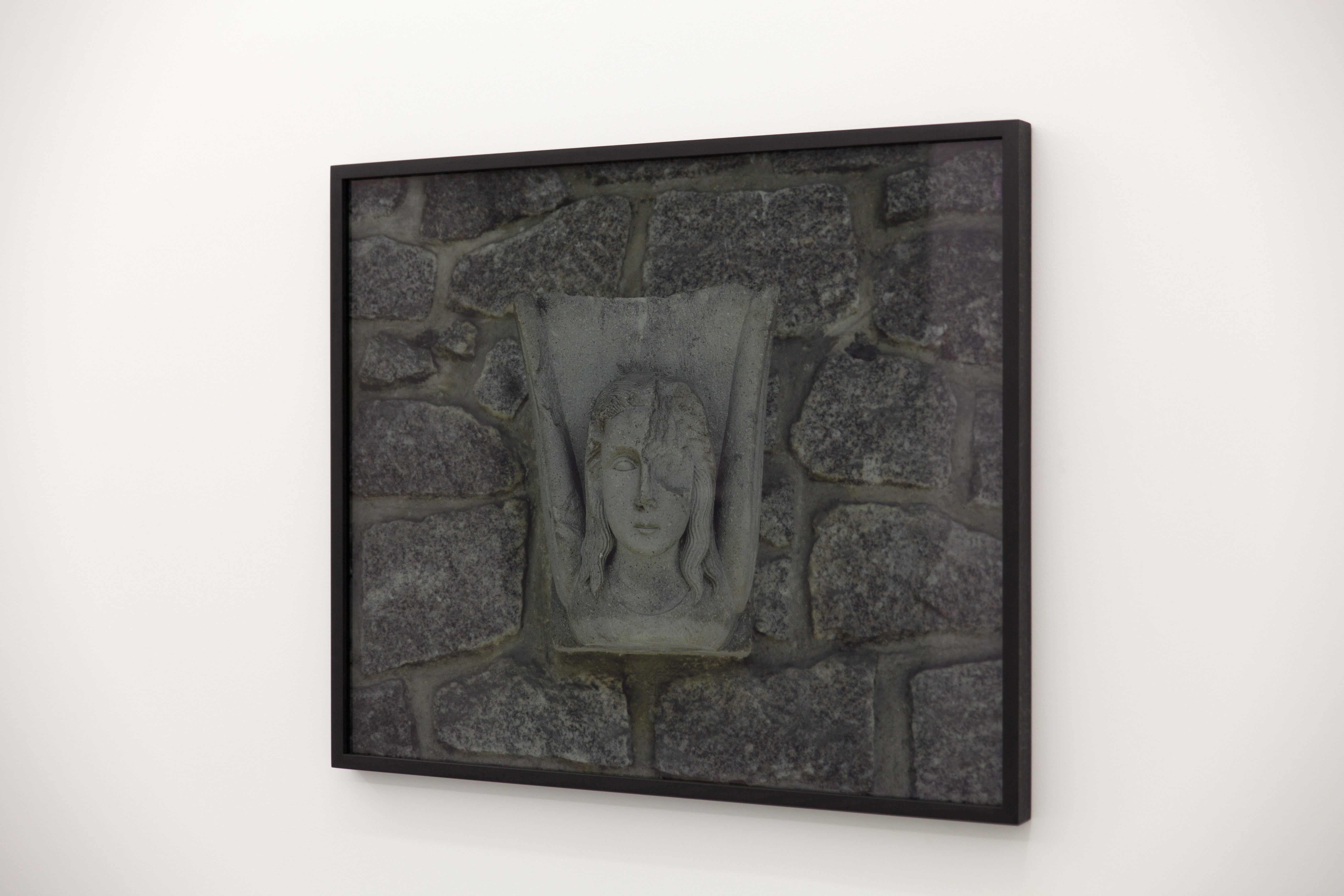 Julien Discrit
pigment print
Image: 60 x 71,5 cm
Enquiries about work INV Nbr. JD2018018
L'Ange de Nagasaki is a photography of the statue damaged by the atomic bomb dropped on Nagasaki 9 August 1945. In the past it made up an integral part of the Urakami cathedral. This angelic face was offered as a symbol of peace by the Japanese government to UNESCO in 1976. It was subsequently placed in the institution's gardens in Paris. The original statue is therefore a document and a monument at once in that it was a direct witness to the atomic cataclysm and in the fact that the scars related to this event confer to it a powerful symbolic significance. A monument then which remembers itself.